About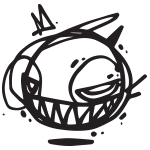 Monsta is a mixed-media artist living and working in Lyon (France).

Extreme sports enthusiast since his earliest childhood, he's long time considered as one of french cross-country skiing's up-and-coming athlete.
Sadly, snow disappearance due to climate change forces him to put an end to his promising career.
Then, Monsta decides to develop his personal projects.
Through his questionning, he's looking for a way to escape a pretty sad reality, and tries to awaken our chillhood side inside of us as a way-out.
Monsta takes a gloomy and critical look at our society not forgetting to bring a touch of naivety and derision.
A contrasting universe appears under his pencil stroke, the imagination of a (lost) child, where games stand alongside death, where monsters are both cute and terrifying and where dreams blend into nightmares.
He uses different ways to express all these contradictions, whether it be drawing, painting, or sculpture and installation.
With Mlle Terite, we are Enfants Sauvages.

contact : monsta.contact@gmail.com

Instagram : worldofmonsta
Facebook : worldofmonsta

____
Monsta est un artiste qui vit et travaille près de Lyon.

Passionné par la compétition et les sports extrêmes depuis son plus jeune âge, il est longtemps considéré comme le nouvel espoir du ski de fond français.
Malheureusement, la disparition de la neige due au dérèglement climatique le pousse à mettre un terme définitif à sa carrière prometteuse.
Monsta décide alors de se lancer dans des projets plus personnels.

Il se questionne alors sur les moyens de fuir une réalité bien triste et cherche à réveiller la part d'enfance en chacun de nous.
Monsta pose un regard sombre et critique sur notre société tout en y apportant une touche de dérision et de naïveté.
Sous ses traits apparaît l'imaginaire d'un enfant, univers contrasté où le jeu vient côtoyer la mort, où les monstres sont aussi gentils qu'effrayants, où les rêves se mêlent aux cauchemars.
Il exprime toutes ces contradictions de différentes façons, que ce soit en dessin, peinture, sculpture ou installation.
 Avec Mlle Terite, nous sommes Enfants Sauvages.

contact : monsta.contact@gmail.com
Instagram : worldofmonsta
Facebook : worldofmonsta